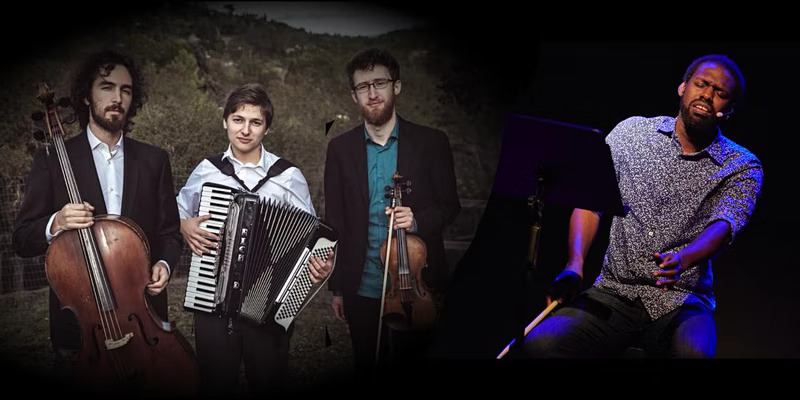 Other Locations
Location 2
Alameda County
Co-presented by KlezCalifornia
Tsvey Brider x Baymele: Album Release (perf. #2)

Tsvey Brider and Baymele team up to present their latest work: Yiddish poetry meets modern settings for klezmer ensemble. There are two performances on July 3: 3pm at The Maybeck Studio and 7pm at The Back Room. Each has a page in this Event Directory. The 7pm performance is co-presented by KlezCalifornia.
For the past five years, vocalist Anthony Mordechai Tzvi Russell and accordionist Dmitri Gaskin have been entertaining audiences internationally as the duo Tsvey Brider ("Two Brothers" in Yiddish) performing their original and stylistically diverse settings of 20th-century Yiddish modernist poetry. Their collection of songs, now reimagined through Gaskin's arrangements for string ensemble, bring a whole new world of sound, texture, and color to the work of Tsvey Brider with the addition of Matthew Stein (fiddle) and Misha Khalikulov (cello) of the San Francisco Bay Area klezmer trio Baymele.
Diverse idioms, styles and periods contrast and combine in Tsvey Brider creating contemporary, idiosyncratic and unique interpretations of music in the Yiddish language. Recent winners of the Concorso Internacional de Canciones en Idish (Der Idisher Idol) the members of Tsvey Brider have performed and recorded with such noted artists as Anthony Coleman, Daniel Kahn, Michael Winograd, Michael Alpert, Alan Bern, Yale Strom & Hot Pastrami and Veretski Pass.
Founded in 2018, Baymele — "little tree" in Yiddish — is a klezmer and Eastern European folk trio rooted in the San Francisco Bay Area. Avid ethnographic researchers, they perform newly rediscovered gems from Ashkenazi, Polish, Romanian, Ukrainian, and Hungarian folk music traditions, alongside original compositions. The members of Baymele have performed and recorded with many noted artists, including Rupa and the April Fishes, Vadalma, StringQuake, Saul Goodman's Klezmer Band, and Mahala.
Tickets are $15 in advance, $20 (cash or Venmo) at the door. This event is at The Back Door. See also an earlier performance 3pm the same day at The Maybeck Studio.