Yiddish language and theatre classes presented by Committee for Yiddish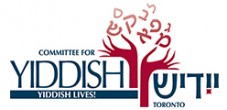 Committee for Yiddish of the UJA Federation of Greater Toronto presents a variety of language and culture classes, currently all online:
Yiddish Language Classes: Beginning, Beginner-Plus, Intermediate-Plus, Advanced
Yiddish Conversation: Beginner and Intermediate
Reading Circle (Leyenkrayz): Participants will read and discuss humorous short stories in Yiddish from the anthology "A Bukh Tsum Lakhn". Materials provided in PDF form.
Yiddish Theatre Workshop: Experience the joys of Yiddish through acting out roles from the Yiddish theatre. All are welcome! Scripts are provided in transliteration, and no previous Yiddish or performance experience is required. Faciliated by award-winning performer, director, and playwright, David Gale.